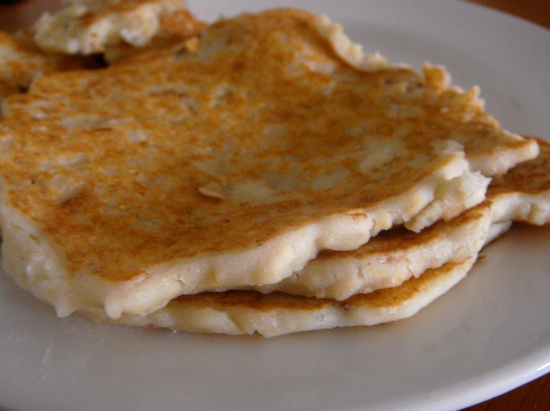 About a month ago, I was on a month of detox diet to reduce Candida (a type of yeast) symptoms. The first 3 days following this diet almost drives me nuts because it's crucial to eliminate sugar and refined foods to reduce Candida growth. Sugar (even honey and fruits) and gluten filled grains is a haven for the yeast. A week into the diet produces surprising results as I started trying out new recipes I never thought I would try before. The hardest is introducing new breakfast and snacks options, until I chance upon gluten free recipes.
One of the fun recipes I tried was rice pancakes with yoghurt. This recipe uses cooked rice, just perfect with the leftover rice from my vegetable rice pie the night before. No wastage. Even though I do not throw leftover rice away, but the rice texture is different after being kept in the fridge. As I was on special diet, I replaced honey in the mixture with vanilla essence, and yet the pancakes still taste scrumptious!
The batter turn out too thick, due to thick homemade yoghurt. The batter could not spread on the pan to make a round shape. added 2 dash of water to thin out the batter. The batter turns out the right texture and fluffy. You have to use your judgement to get the right batter just right. If it's too thick and sticky, add 1 Tsp water, stir and check texture. If still thick, add more water. If batter is too watery, add some flour.
After making 3 pancakes, I add salt, herbs & pepper to the batter, and voila we have savoury rice pancake. I only have basil, oregano and rosemary in the kitchen, you can use any herbs you like. Experimenting the recipe resulted in cooking time taking longer than estimated, and after breakfast, i magically took only 5mins to get ready to leave the house. My first ever record!
Special Instructions: Serves: 6 pancakes
Preparation: 5 minutes
Cooking: 15 minutes
Ingredients:
1 cup cooked rice1 cup plain yoghurt

1 1/4 cup rice flour

1/2 tablespoon honey

1 egg

2 teaspoon baking powder

1 teaspoon oil
Instructions:
1. If you are using leftover rice from the night before, use a fork/your fingers to mash the rice clumps. After the rice has been mashed a little, then add the rest of the ingredients. Use a whisk to stir everything up until it makes a light and creamy batter.
2. Fry these in a hot skillet or griddle, turning them when they are brown on the bottom. I use 2 Tablespoon batter for each pancake to keep them small, and manageable. They are so tender, that frying big ones is a little tricky, so keep them smallish to be on the safe side.
3. The sweet pancakes is best served with peanut butter, honey, maple syrup top with fresh fruits and nuts. The savoury pancakes are delicious by itself.
About Me: I'm Shannon from Just As Delish. I'm always looking for quick & healthy recipes, or simplifying recipes! More quick & healthy recipes at Just As Delish