Remember Winter Sonata? OMG! Every girl I know was talking non-stop about the drama, the love story, the heartbreak, the tears and of course the handsome BAE YONG CHOON (which I had a crush on too!). I remembered it was Winter Sonata that created the whole Korean drama craze in Malaysia.
Since then, I had my fair share of other Korean drama series and intrigued by their culture and food. As much as I tried to learn some Korean phrases, the only word that always pops up in my mind is An-yŏng-ha-se-yo (Hello in English). I noticed their homecook food seems to be a a big bowl of rice stir with chili paste, and I always wonder what is that.
Fast forward to 2009, I was with a bunch of friends at a Korean eatery in Sri Hartamas and the vegetarian dish Bimbimbap caught my eye. When the dish came, it struck me that this is the dish I always saw in the Korean dramas! Since then, it became one of my favourite dish/meal, but the recipe seems so complicated.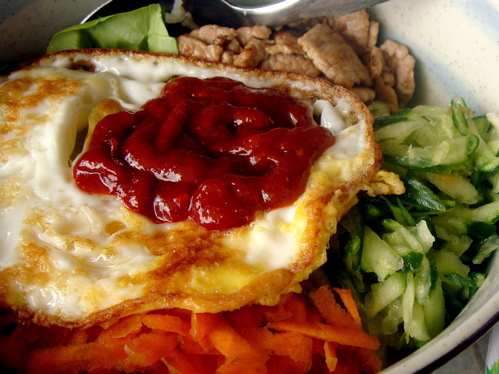 The common way of cooking bimbimbap is to saute each ingredient (vegetable/meat) separately, season with soya sauce and sesame oil. You could use any of your favorite vegetables / meat to make delicious bimbimbap: carrot, fernbrake (kosari), spinach, shitake mushrooms, zucchini, soybean sprouts, okra, and red bell pepper.
If using 5 ingredients, I have to repeat the saute process for 5 times. It seems madness for me (well lazy me) and I thought to myself what vegetables I can use without cooking them 5 times. So I totally simplified the recipe, only cooking the meat and using raw vegetables, like cucumber, carrot, lettuce. My fridge is always stocked with cucumber and carrot, and these become my main ingredients.
Ingredients:
1 cup cooked rice
1/2 cucumber/zucchini (grated)
1/2 carrot (grated)
4-5 leaves of Lettuce
100g Beef (sliced thinly)
2 Eggs
Soy Sauce
Bimbimbap sauce (I bought this in Korean shop, there's a few brands)
2 Cloves of Minced Garlic
1 Tablespoon Sesame seeds
1 Tablespoon Sesame Oil
1 Tablespoon Vegetable Oil
Instructions:
1. On a heated pan, stir fry beef with oil and minced garlic, add a dash of of soy sauce and sesame oil.
2. Grate carrot & cucumber or cut into thin strips, toss with sesame oil.
3. Prepare eggs with sunny side up.
4. Put your rice In a big bowl, and attractively display all your vegetables and meat t. Place the sunny side up egg on the center.
5. Serve it with sesame seed and bimbimbap sause.
6. Lastly, mix it up (like in the Korean drama) and eat!
About Me: I'm Shannon of Just As Delish. I am always looking for quick & simple wholesome recipes, or I simplify recipes to make my life easier! More easy recipes at
Just As Delish